We're growing! Check out the new locations below, coming soon in 2020
NOTE: Coming soon locations are not currently available to shop online since inventory is not yet in-stock. Please select an open location to view products. As soon as a new location is open for business you can then shop online. Products and prices may vary by location.
Home Outlet is the discount division of E.C. Barton & Company and has been helping customers stay on-trend since 1885 by offering prices that will maximize your budget and offer exceptional value. You shouldn't have to make sacrifices to your project because of high prices. Our guaranteed lowest prices mean you never have to wait for a sale, and you won't have to make sacrifices on your project to stay within budget. 
Even after being in business for so long, we continue to grow, with new locations popping up all the time. Get inspired for your next project with our wide selection of home improvement materials, fixtures, and designs. Home Outlet is carrying the torch with a wide selection of home improvement materials, fixtures, and designs to get you inspired for your next project! 
Home Outlet has it all!
From bathroom to kitchen and all stops in-between, you can count on us to be your go-to place for all this and more!
Vanities and cabinets
Flooring & Home Tiles
Doors and windows
Tile
Countertops
Sinks and faucets
Moulding
Lawn and garden
Tools
the list goes on!
There might be a Home Outlet coming soon to your area, so be sure to keep checking this page to see what new and exciting opportunities await you in your home improvement experience.  Home Outlet is 100% employee owned, which means anytime you are asking for help, you are talking to an owner.  We stand by our name and gladly welcome you to a place where value lives!
Sign up for our newsletter below to receive the announcement for when your location is open.
Looking for a little more information? Click this link: GOOD TO KNOW
New Locations!
There's a Home Outlet waiting for you.  We strive for excellence in service as well as quality products at an affordable price point.  Don't let high price tags from our competitors slow you down when it comes to remodeling your home or creating the kitchen, bathroom, or living room of your dreams. Don't sacrifice the quality of your project with high prices when we offer the lowest guaranteed prices year-round. Here are just some of the newest Home Outlet stores coming to a town near you!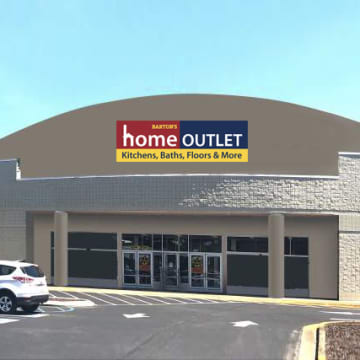 Home Outlet Hixson, TN
NOW OPEN at 5380 TN 153, Hixson, TN: Our Hixson, Tennessee store is near a pair of box stores. See what sets us apart when it comes to service, know-how, and a dedication to our customers you won't find with the competition. If you are interested in maximizing your budget and minimizing the hassle of home improvement, you'll find that our Partners not only know their stores forward and backward, but have a wealth of knowledge about your project you won't find anywhere else. For a wider selection of bathroom and kitchen fixtures, tile, countertops, cabinets, and a huge selection of cabinet hardware, you'll see that Home Outlet brings back the know-how of a hometown hardware store you have been missing.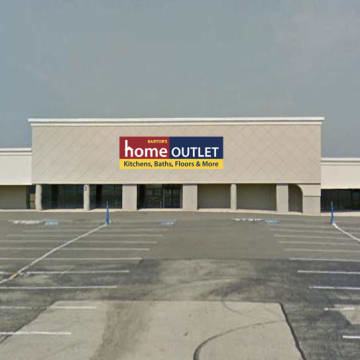 Home Outlet Dayton, OH
NOW OPEN at 131 N. Springboro Pike, Miami Township, OH: Mall Woods Shopping Center just got better with Ohio's newest location. Dayton's Home Outlet store brings you affordable quality that is always at home. From hardwood flooring and carpet to pedestal sinks and updated cabinets, Home Outlet is always on point when it comes to the latest trends and craftsmanship that fits your budget. Our Partners are ready to help you! When it comes to DIY bathroom remodeling, you'll be amazed at the selection we have for you. From the crown moulding right down to the vinyl flooring or tile, and all points in between, you can let your imagination run wild, or work with one of our experienced designers to plan your project free of charge.
Home Outlet Fort Smith, AR
NOW OPEN at 5711 Rogers Ave., Fort Smith, AR: Close to Central Mall comes Fort Smith's Home Outlet store, serving our customers with exceptional selection and impressive value. At Home Outlet quality materials meet budget friendly value with our lowest prices guarantee. Inspiration is always free and in abundance at Home Outlet. Stop by or visit online and one of our experienced kitchen designers will help you plan your kitchen project. You can also set your home apart from the rest with new doors and windows. Our selection is sure to give your house those finishing touches that speak volumes about your residence before you even cross the threshold.
Home Outlet Harrisburg, PA
NOW OPEN at 4247 Union Deposit Road, Harrisburg, PA: Just east of I-83, our newest Home Outlet in Harrisburg is ready to provide the service and customer satisfaction you deserve. Whether you are remodeling your kitchen, bathroom, or anywhere else in the house, Home Outlet has high quality products at the guaranteed lowest price. Our exceptional selection and impressive value are coming soon. Just off the Capital Beltway, you can get all sorts of errands done in the area while you plan for your next home improvement project. Get inspired and find what you are looking for to complete your next DIY project. Welcome to a place where affordable quality is always at home!
Home Outlet Winston-Salem, NC
NOW OPEN at 7760 North Point Blvd, Winston-Salem, NC: Our Winston-Salem Home Outlet is opening soon. It's bringing with it a friendly staff of knowledgeable professionals, kitchen, bathroom, flooring, and fixtures that will inspire your next project. Just a few blocks off Indiana Avenue, just east of Oldtown, you'll find your newest friend in home improvement and innovation. With current designs, you can expect value and endless inspiration from Home Outlet! In addition to flooring and carpeting, you'll find all of your remodeling needs such as moulding, wall planking, as well as caulk and adhesives to give your rooms a professional look. Our Partners take pride like they own the place, because all of them do! Our stores are all 100% employee owned.
The Home Outlet Difference
Regardless of your DIY experience, Home Outlet's customer service representatives are there to help you.  From installing a bathroom faucet to completely remodeling your kitchen cabinets and countertops in a major updating project, we are ready to assist our customers regardless of their level of experience.  We have an exceptional selection and impressive value, as well as current designs that might make you rethink how planning a home improvement project should be. 
Stop by and see what we have in store for you.  You can let your imagination run wild, but it won't run away with your budget.  Our products are curated to be the best quality and value, because our customers are who drive us to do better every day.  If you are tired of the impersonal experience of a massive box store, come back home to Home Outlet!
Your Source For The Latest News!
---
Sign-Up Today For Home Outlet Emails
With our newsletter, we'll send you the most current updates directly to your phone (or computer) via email! Don't worry – we'll only send occasional emails.
New Store Updates
How-To Articles
New Products
Promotions, Discounts & Events
Services
Military Program Updates
Credit Card Program Updates
Landlord Program Updates
Contests
Use this form to update your existing email account interests.