Current Designs. Best Value. Exceptional Service.
To better represent who we are - a discount building supply retailer specializing in Kitchens, Baths, Floors, & More at the Guaranteed Lowest Price, we have been exploring our brand. The goal of this re-brand is to align our Bargain Outlet and Surplus Warehouse names under one division.

Over that past year, we have conducted research to see how we can best express our value to you, our customer. That research included a pilot that has been running in select markets under the name Barton's Home Improvement.

Now that we've concluded our research, those markets will soon see the pilot stores transition to the new name of Home Outlet as we apply what we've learned to our final re-branding strategy. Additionally, all Bargain Outlet and Surplus Warehouse locations will transition to Home Outlet within the next year; unifying all brands as one discount retail division.

We have always been and will continue to be a place where the Guaranteed Lowest Price means you never have to wait for a sale.

And, you will still receive the same high-quality service from knowledgeable and committed store representatives with many years of experience.

Home Outlet is an extension of our parent corporation, E.C. Barton and Company, based out of Jonesboro, Arkansas. Our company, which is 100% employee-owned, has been serving home improvement needs since 1885.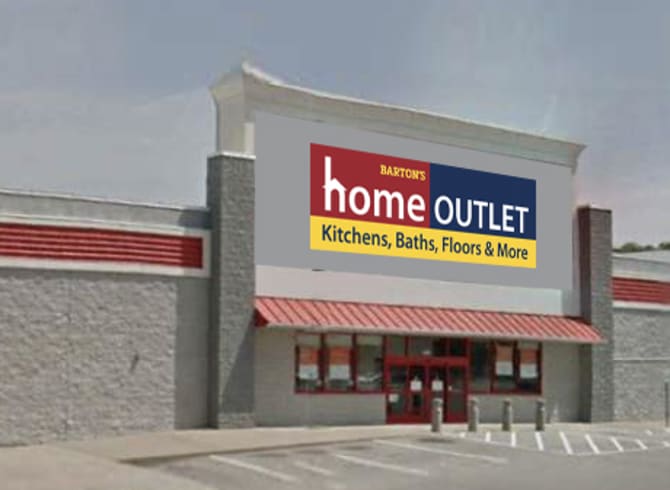 New Store Locations
We're growing! Check out the new locations at the link below, coming soon in 2020
Stay Up To Date With Our Newsletter
---
We'll notify you when a store is open
We want you to get just as excited about upcoming discounts, additional product offerings, and in-store events as we do. With our newsletter, we'll send you the most current updates directly to your phone (or computer) via email!
You'll never miss a sale on the kitchen cabinets you've been eyeing, or new flooring arrivals you've never seen in our stores! Don't worry – we'll only send occasional emails.
How-To Articles
New Products
Promotions & Events
Services
Military Program Updates
Credit Card Program Updates
Landlord Program Updates