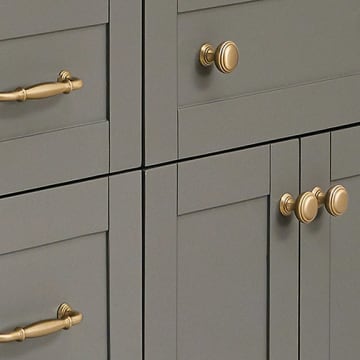 The material and finish of your kitchen cabinets can go a long way when it comes to shaping the aesthetic of your kitchen. However, when designing cabinets, many people forget that kitchen cabinet hardware is a critical part of the finished look.

Whether you're looking to create an ultra-modern kitchen, a farmhouse-inspired space, or something else, the right hardware will pull everything together.
Cabinet Pulls
Knobs are a feature of just about every kitchen, but cabinet pulls can look nice and make life a lot easier. Pulls are, essentially, handles that let you pull open cabinets or drawers.
So why opt for pulls? For one, most interior designers agree that pulls give a kitchen a distinctly modern look. Unless you're going for a vintage-inspired aesthetic, pulls are probably the best design choice. Pulls can also go on both doors and drawers, so you can use the exact same design throughout your kitchen.
As you may have noticed in your own kitchen, knobs can sometimes loosen and come off over time unless you regularly re-tighten them with a screwdriver. Pulls are attached at two points, so they're less likely to come loose.
Cabinet Pull Styles
Our wide selection of cabinet pulls offers something for just about every taste. You've probably already seen cabinet handles, one of the most common types of pulls. These pulls do well in classic and modern kitchens alike.
Bar pulls are more angular and look especially natural in modern kitchens. If you want something unique, a cup pull might be more your speed — these pulls look a bit more like the cup-style handles on many types of dressers.
Available Materials
The style of pull you choose is important, but so is the material. You can find pulls in a range of different materials:
Plastic: Plastic cabinet hardware is inexpensive and can come in interesting colors, but it's more prone to wear and breakage
Aluminum: Aluminum cabinet hardware is lightweight and has a modern look, but it's not as corrosion-resistant as stainless steel
Stainless Steel: Stainless steel cabinet hardware is durable and corrosion-resistant, and it also comes in many finishes
Zinc: Zinc cabinet hardware is extremely durable, and it's easy to make into complex shapes
Many of these materials come in several finishes. In particular, steel cabinet hardware can be made to look like bronze, copper, and other metals.
Cabinet Knobs
Cabinet knobs are a classic choice. They're more cost-effective than pulls, and since they only attach at one point, they're also easier to install. There are three basic styles of knobs to choose from:
Round knobs
Square knobs
T-bar knobs
Some knobs come with embellishments or unique design features. For instance, some square knobs are flat. Others are rounded slightly outward.
We're proud to offer knobs (and other types of cabinet hardware) in several finishes:
Antique copper
Bright nickel
Brushed oil-rubbed bronze
Matte black
Brushed gold
Polished chrome
Satin bronze
Satin nickel
Stainless steel
Bright, glossy finishes like polished chrome and bright nickel look great in modern kitchens. Antique-style finishes like copper and bronze are perfect for achieving a vintage look. And some colors, like matte black, go equally well in vintage and modern kitchens.
Cabinet Hinges
Depending on the look you're going for, you can choose highly-visible cabinet hinges or hinges that are barely visible at all. Because hinges need to be durable, our cabinet hinges are built to last with stainless steel.
We offer both inset and overlay hinges to accommodate any style of kitchen cabinet. We also offer them in finishes to coordinate with your knobs and cabinet pulls for a beautifully cohesive look!