Should you find an identical stock item at our competitor that is lower in price, simply bring in a copy of their advertisement or a quotation on their letterhead and we will meet their price less 10% at the time you make your purchase from our store. The total 10% discount not to exceed $500. We reserve the right to limit quantities. We can't match prices against store liquidations, internet sites, charitable or non-profit organizations, etc.


Save With Our Credit Card
---
Special financing for 12, 18, or 24 months** on qualifying purchases with our credit card.
- Purchases of $500 to $1,499 qualify for 12 month offer.
- Purchases of $1,500 to $2,999 qualify for 18 month offer.
- Purchases of $3,000 or more qualify for 24 month offer.

*Subject to credit approval. Minimum monthly payments required. See store representative for details. Not available at Barton's Lumber. Offers cannot be combined. Offer cannot be used in conjunction with any other coupons, discounts, special offer, previous purchase(s) or Exceptional Value items. We reserve the right to discontinue or alter the terms of this offer at any time.
Refunds accompanied by the original sales receipt and within 90 days of merchandise purchase will be accepted. If a return exceeds $200, a check will be issued from our corporate office. No refunds or exchanges will be accepted on damaged product, clearance items, or cut goods such as carpet, vinyl, etc.

Out Of Box Returns - Items may be returned without the original packaging with a 20% reduction in the amount of the refund. Items must be in otherwise good condition. The original sales receipt is required.


If you have a valid driver's license, make your check out to us from your account.

Check must be drawn on a U.S.A. based bank.

Subject to Certify approval.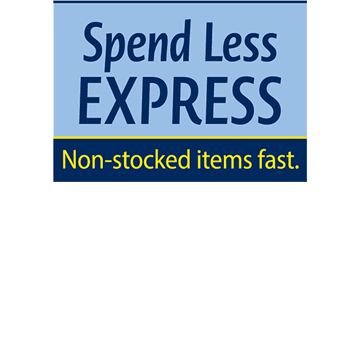 Sometimes, your dream home reaches beyond the shelves of our stores; however, custom home remodeling can get expensive. Through our Spend Less Express program, you'll have access to savings on thousands of brand-name products not normally stocked in our stores. Whether you are searching for new kitchen cabinets to give your eating area a fresh feel, hardwood floors to replace your discolored carpets, or a Jack & Jill vanity to expand your bathroom space, our program includes affordable, quality product options made by trusted manufacturers. Our offerings are available to you within 2 to 5 weeks of placing your order in store.

Please visit our SLE page for more information.
We have twine available if you need it to secure your merchandise to your vehicle.

Store personnel are unable to tie anything to your vehicle.

Loading Merchandise
We will be happy to help you load something into your vehicle!

Please see an associate for a load release form. Once completed, we'll load your vehicle and have you on your way.
Tax-Exempt Customer Policy
---
ALL Sales Tax-Exempt Customers:

Must be approved by our corporate office*
Must pay sales tax prior to corporate approval
Must provide current & properly completed exemption documentation as required by state law
Who are charged sales tax may apply for a refund of sales tax as provided by the state government

*Process may require up to 10 business days.